Al Ain Club Organizes the Volleyball Festival for U-10 Teams.. Al Nuaimi: Such Events Lead to Have a Promising Volleyball Generation
14.Apr.2019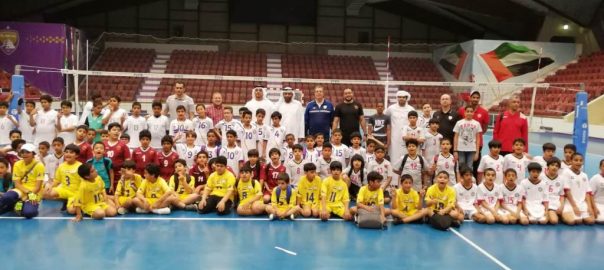 Al Ain Sports Games Club organized the U-10 Volleyball Festival which was held at the Khalifa Bin Zayed Stadium in Al Ain Club on Saturday 13th April 2019. The big sport event was held with the participation of a 20-player teams of Abu Dhabi Clubs: Al Wahda, Bani Yas, Al Jazira and Al Dhafra clubs, in addition to the host Club, Al Ain.
The event was attended by H.E. Mr. Mubarak Hareb Al Nuaimi, Mr. Nasser Al Dein Hamed, Director of Collective Games Department at Al Ain Sports Games Club and Mr. Saleh Nafie Al Suwaidi, Administrative Officer of Al Ain Junior Teams.
Mubarak Al Nuaimi, Board Member of the UAE Volleyball Association, commended the efforts made by Al Ain Club Management to ensure the success of such sport events dedicated to the volleyball game. "It is a great opportunity to raise awareness of this game, urge junior players to practice it with the ultimate goal to have a promising generation of volleyball players."
Al Nuaimi stressed the importance of cooperation among all clubs to hold such big events in order to achieve the common goals aimed at caring for young players and creating a promising generation of volleyball and sports in general.