Al Ain Handball Head Coach: Ready to Take Over Shabab Al Ahli Dubai in the League
26.Oct.2017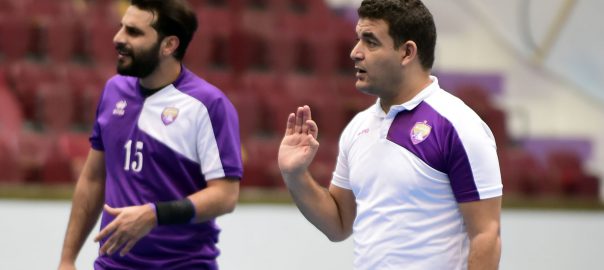 Al Ain Handball Team concluded their preparations to encounter Shabab Al Ahli Dubai in matchweek 4 of the Premier Handball League scheduled to be held in the evening of Friday 27th October at Shabab Al Ahli Dubai Club Court in Al Qusais.
The Tunisia's Head Coach of Al Ain Team, Mohamed Abu Ghazaleh, confirmed that his team is ready for the coming match and stressed that it is a must to collect the three points of this match to compensate the team's last loss against Al Nasr which pushed our place in the standing table back to the 4th position. He emphasized that the team should do their best to win the match.
"The players' morale is high and they have fierce competition among them to secure their place in the starting lineup of the coming match. They did address all the mistakes committed in the last matches and fix them," added he.
Currently, Al Ain is in the fourth place in the standing table with 8 points behind the lead team Sharjah with 12 points and Al Nasr and Al Wasl who hold 9 points in their balances.