AL AIN STILL TOP OF VOLLEYBALL LEAGUE AFTER WIN OVER AL WASL
26.Mar.2017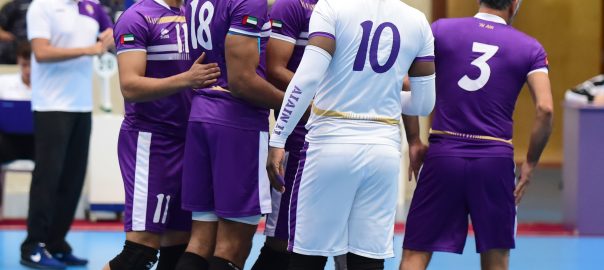 Al Ain volleyball team secured the top position of the league after a 25-20, 25-22, 25-23 win over Al Wasl.
The two teams had great performance in the game that was played at Khalifa Bin Zayed Stadium in Al Ain.
After the victory, Al Ain is still at the top of the league, securing a place in the play-off.
Al Ain Egyptian Coach Ahmed Mostafa had Khaled Al Hosni, Abdullah Ali Seif, Khamis Abdullah Al Baloushi, Adel Mohamed Al Baloushi, Adel Ateeq Al Baloushi, Mubarak Khalifa Al Naumi, Mohamed Suliman Al Dhaheri , Jamal Hamad Al Shamsi, Salim Jawhar AL Kaabi, Saeed Al Habsi, Mohamed Salim Al Badi and Walid Thani in the game line-up.