Asian Judo Federation Bestows the Medal of Tolerance Upon Mohammed bin Thaloub Al Deri
21.Apr.2019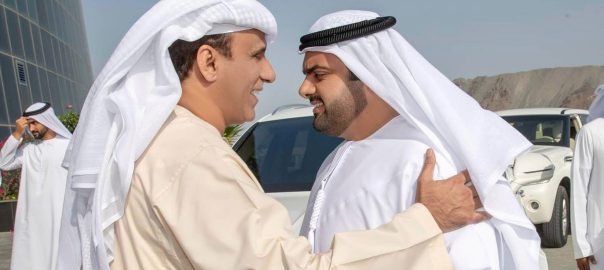 In the presence of His Highness Sheikh Mohammed bin Hamad bin Mohammed Al Sharqi, Crown Prince of Fujairah, the Asian Judo Federation bestowed the Medal of Tolerance upon H.E. Mohammed bin Thaloub Al Deri, the President of the UAE Wrestling and Judo Association, in recognition of his efforts in supporting and developing the game and his valuable contributions in laying the values of tolerance and love among the members of the game at the Asian and international levels.
Kuwait's Obeid Zayed Al Enezi, Vice- President of the Judo International Federation and President of the Asian Judo Federation availed the opportunity to commend Bin Thaloub's efforts. "Honoring Mohammed Bin Thaloub Al Deri with the Asian Medal of Sport Tolerance coincides with the UAE's Year of Tolerance Initiative. So, this high celebration of a key sport figure in UAE comes as an actual translation of that humanitarian message that H.E. Bin Thaloub is always keen to exhibit, in addition to his constant contributions to boost the Olympic values, promoting the fair play and equality principles among people."
In his turn, H.E. Mohammed bin Thaloub expressed his sincerest appreciation and regards for granting him such a prestigious medal. "Granting me the Asian medal reaffirms the trust of the continental and international Asian sport bodies in the UAE and its leading initiatives. Indeed, it is a way of honoring the UAE as a whole as it proves from day to day and an occasion to another that it is the country of friendship, tolerance and peace. UAE will always remain a focal point for all advocates of peace whose principles were established by the founder of UAE the late Sheikh Zayed, may God rest his soul in peace, and maintained by the UAE wise leadership who vowed to work hard to be the land of the goodness and love where diverse peoples of the world meet.
H.E. Mohammed bin Thaloub also thanked President of the Asian Judo Federation, H.E. Obaid Zayed Al Enezi for such a highly appreciated confidence and expressed his appreciation for the great effort made by the UAE to improve sport as a whole and the Judo game in particular.
Noteworthy, Mohammed bin Thaloub Al Deri was appointed as the Honorary President of the Arab Judo Federation in 2011. In 2018, the Judo International Federation honored Bin Thaloub by appointing him as the Ambassador for Peace and Friendship, and awarded him the Honorary Membership Certificate of the Judo International Federation signed by the Russia's President Vladimir Putin, the Honorary President of the Judo International Federation. Such a certificate is granted to influential figures and supporters of the game worldwide.