Commemoration Day 'instills value of pride in all of us': Hazza bin Zayed
01.Dec.2018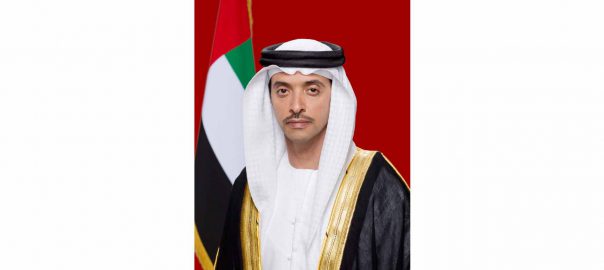 (WAM) — H.H. Sheikh Hazza bin Zayed Al Nahyan, Deputy Chairman of the Abu Dhabi Executive Council, has said that Commemoration Day is a "glorious day" in the UAE's history, adding that it "instills value of pride in all of us".
In his speech that was published by the 'Nation Shield' magazine, Sheikh Hazza said that on this day, the UAE commemorates its martyrs, the heroes of the Armed Forces, who embodied the values of loyalty, devotion, sacrifice and courageousness.
"On this day that instills values of pride and glory in all of us, we pay tribute to our heroic martyrs, and we renew our loyalty to the wise leadership; President His Highness Sheikh Khalifa bin Zayed Al Nahyan, His Highness Sheikh Mohammed bin Rashid Al Maktoum, Vice President, Prime Minister and Ruler of Dubai, His Highness Sheikh Mohamed bin Zayed Al Nahyan, Crown Prince of Abu Dhabi and Deputy Supreme Commander of the UAE Armed Forces and Their Highnesses the Supreme Council Members and Rulers of the Emirates," Sheikh Hazza said.
"Through Their Highnesses' exceptional leadership and the moral and national values that they established in the souls of all Emiratis, we are creating generations of dedicated and devoted youth who are armed with science, knowledge and will, and who are ready to face all challenges," he added.
Sheikh Hazza also paid tribute to the UAE Armed Forces, along with its leaders and members, adding that the Armed Forces have "become a model of building the Emirati personality that is proud of its civilised heritage, and is always prepared to safeguard the country's accomplishments and protect its legacy".
Sheikh Hazza also thanked the families and parents of the country's martyrs, who "reflect the highest meanings of patience and established the values of sacrifice and bravery in the souls of the youth".
"As we observe this glorious day, the Commemoration Day, during the Year of Zayed, we all feel pride and honour, because the Founding Father, the late Sheikh Zayed bin Sultan Al Nahyan, is the one who established, in the Emirati people, one generation after another, this national spirit which encourages positive and constructive participation in our advancement and civilised journey," he stressed.