Delegation of LOC of FIFA CWC 2017 visits Hazza Bin Zayed Stadium
21.Nov.2017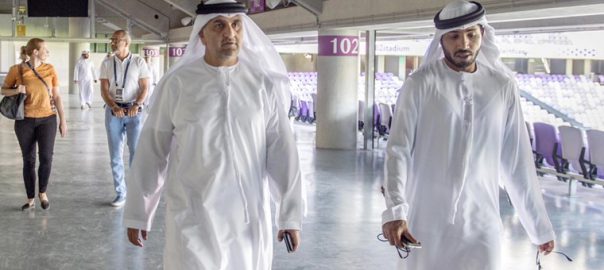 A delegation of the higher Local Organizing Committee (LOC) of the FIFA Club World Cup UAE 2017 has paid a visit to the Hazza Bin Zayed Stadium that will host the opening tie of the tournament, to be a play-off game between host-club Al Jazira and Auckland City.
The FIFA Club World Cup UAE 2017 will feature the world's top club sides including CF Pachuca, Auckland City FC, Real Madrid, Al Jazira and Wydad AC plus the winning teams of the CAF Champions League, AFC Champions League and the Copa Libertadores.
The delegation grouped HE Aref Hamad Al Awani, General Secretary of Abu Dhabi Sports Council, Talal Al-Hashemi, director of competitions in the tournament, Hazza Bin Zayed Stadium Manager Rashid Abdulla, Director of Operations at the Higher Local Organizing Committee Salim Al Sulaimani and Head of Technical Support Department of Abu Dhabi Sports Council Ahmad Al-Musabi.
During the visit, the delegation reviewed the latest preparations for the opening ceremony and game.
They also reviewed the latest upgrades in the stadium, including the media platform, the media center, the press conference hall and the main platform.
The stadium's eco-friendly new LED floodlights that are 50%-60% energy savers were also reviewed by the delegation. The floodlights are the first of their kind in the region.
Training stadia and playgrounds, including Khalifa bin Zayed Stadium (KBZS), Tahnoon Bin Mohammed Stadium (TBMS) and the special education center, were visited by the delegation.
The visit came as part of the higher local organizing committee work, Al Awani said.
The Hazza bin Zayed Stadium, opened in 2014, has a capacity of 22,717 and is a multi-purpose stadium which acts as the home for UAE Pro-League club Al Ain FC.
The stadium sits approximately 150 km east of Abu Dhabi and is the first stadium to feature a parasol roof designed specifically to keep supporters and players cool in soaring temperatures.