The Boss Braces the Title of the Vice-President Volleyball Cup
20.Oct.2017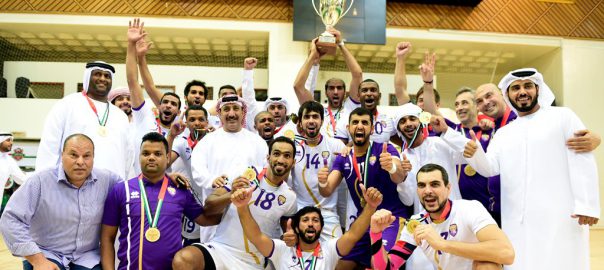 Al Ain Volleyball First Team tucked away the title of the Vice President Volleyball Championship when they defeated Bani Yas Team by 3-1 in the final match held at Sheikh Saeed Bin Maktoum Court at Shabab Al Ahli Dubai Club. By that result the team deserved to be crowned by gold medals while the Blues got the silver ones.
Al Ain managed to end the first round to their advantage by 25/23, but the Blues were able to level in the second round and ended it by 25/22 for their advantage. Al Ain fought strongly in the third round and ended it by 25/21 in their favor and the fourth round by 25/22 to be crowned with their first title this season.
Al Ain hit a new record by winning the title with zero losses. The Boss achieved landside victories in all their matches they played since the group stage by beating Hatta 3-0, Shabab Al Ahli Dubai 3-1, Bani Yas 3-1 and winning Ajman in the semi-finals by 3-0.