The Boss Shifts Announcing the League Champs to Next Friday.. The Boss Volleyball Squad Edges Shabab Al Ahli and Qualifies to the Final Match
17.Apr.2019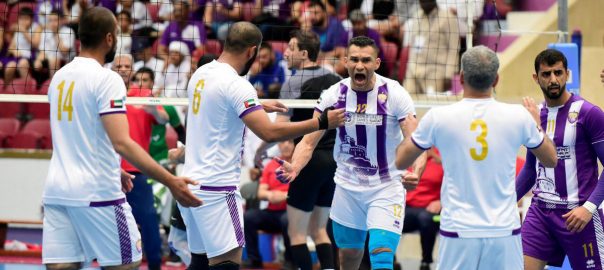 The Al Ain Volleyball Men Team turned the table on the Shabab Al Ahli Team in the playoff match of the Volleyball General League and win the guests by 3-2. The match was held at the indoor court of Khalifa bin Zayed Stadium in Al Ain Club. By this result, the announcement of the champs of the league has been shifted to next Friday.
Al Ain squad did not perform well and Shabab Al Ahli players were able to win the first round by 4-point difference (21-25). In the second round, things changed, and Al Ain squad controlled all the details of this round to finish it by 10-point difference (25-15). The stars of the team did the same in the third round and finished it by 25-16 to their advantage. In the fourth round, the opponents regained their energy and won Al Ain team who lost concentration by 19-25. In the final and decisive fifth round, the Boss warriors proved that they are uneasy team and smashed the opponent by 15-12 ending the match by a great victory 3-2 rounds.
Considering they lost to Shabab Al Ahli in the first leg away match while winning the home match, the Boss deferred the announcement of the league champs until next Friday when both teams play a final match on Friday 19th April 2019 at the indoor court of Al Jazira Club in Abu Dhabi.