Under the Theme of "Emirates Brings Us Together" Al Ain Club Celebrates the National Sports Day
07.Mar.2018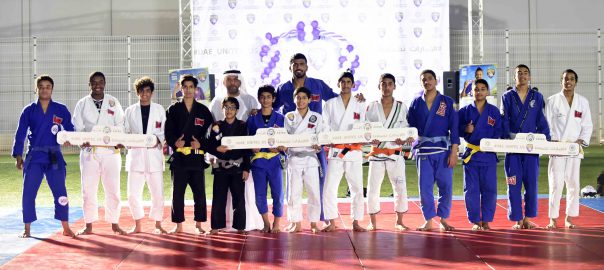 On the occasion of the National Sports Day, Al Ain Club organized a number of sports activities under the theme "Emirates Brings Us Together" on the outdoor fields of Hazza Bin Zayed Stadium with a significant participation of institutions, communities and the Club's staff.
The schedule of the event kicked off with holding several competitions, including: five-a-side football tournament. 8 teams participated in the football tournament representing the institutions and communities located in Al Ain. Additionally, a volleyball tournament was organized with the participation of 8 teams representing Al Ain institutions and communities. Al Ain Jujitsu Team also participated in the event by a breathtaking demonstration of their fine and quality skills in martial arts. Prestige Gym champs entertained the audience by their spectacular body building demonstration. Medical care and assistance was provided by Medior Hospital staff who were on alert to handle any emergency situations via their modern ambulances. AT the stage designed for this event, the traditional national songs were played highlighting the importance of this special day being celebrated in all regions of UAE.
At the end of the event, Mr. Ahmed Sultan Al Nuaimi, Sports Director of Al Ain Sports Games Club honored the participating institutions and crowned the winning teams in competitions held on the occasion of the National Sports Day.