Under the Theme "Winter Clothing Donation" Initiative.. The Boss is Spearheading Community Initiatives in Support of the Club's Labor
28.Jan.2021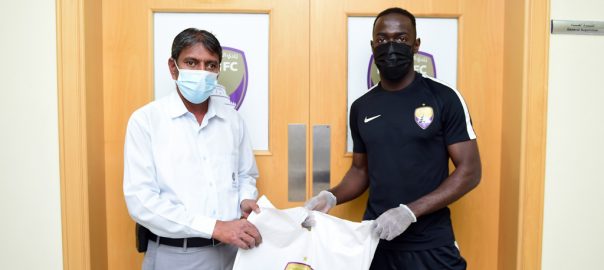 Al Ain Club Distributes Winter Clothing, Foodstuff Packages and Hygiene Materials to the Labor
Ahmad Barman: So Proud of the Club's Creative Initiatives
Based on the vital role that Al Ain Sports and Cultural Club and its affiliated companies persistently play, Al Boss has been keen to carry on the annual initiative "Winter Clothing" in line with the Club's vision and values.
Al Ain Club annually distributes food parcels, sanitary and medical supplies, winter clothes, and children's materials to the Club staff.
Noteworthy, the assistance program continues throughout the winter season under the supervision of the Club's Corporate Communication Department. Directors of Al Ain Club's companies, sector supervisors, and many Al Ain Club stars in various games participated in the "Winter Clothing" initiative.
The "international" midfielder of Al Ain Football Team, Ahmed Berman, said that Al Ain Club is always committed to consolidating the concept of the comprehensive Club, "so you find everyone who belongs to this entity realizes the importance of participating in its creative initiatives to serve our community."
"We witnessed a few days ago the opening of Al Ain Club Center Covid-19 Screening Center and Vaccination through the vehicle. Such initiatives confirm the Club's interest in serving the society," he said.
Barman added: "We have not to forget to hail the efforts of the Al Ain fans for their participation as volunteers being members of the Ainawi Taskforce, one of the most prominent volunteer taskforces, in our beloved homeland and their support of our first line of defense to face the challenges of the Corona pandemic."
He signed off by saying: "We are always proud of the initiatives of our club and the contributions of the Ainawi Nation, who are a role model for other fans."