Al Ain Archery Kicks Off the Preseason Training Sessions at Hazza Bin Zayed Stadium
07.Aug.2019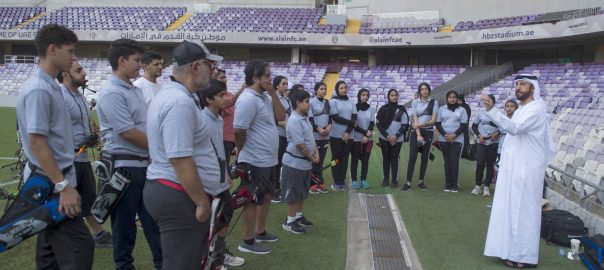 Al Ain Archery Team started their preseason preparations on Tuesday 6th August 2019 at the Hazza Bin Zayed Stadium with the participation of all players.
The head coach, Egypt's Ameera Nader, led the training session. The coach focused on physical fitness training and tactics to identify the players' fitness and identify their needs to further boost their level of performance.
The Al Ain Archery Team comprises a group of 20 males and one female athletes for the age groups of 2002-2007. There is a 24-year-old female player. Male players have four players for the age category of 2005-2009 and three players over 35 years old.
The team seeks to prepare well for the new season to participate in the local league with the aim to have all players pass the technical tests to join the UAE Archery National Team. The national team is participating in two important tournaments, that are Arab Championship in Tunisia in October 2019, and the Asian Championship for teams in Bangkok next November 2019.
The team will continue its intensive daily training sessions at its main training halls at Hajar Hall in Al Ain after the providing the players with all logistical aspects, including providing arrows, bows, clothes and tools.