Al Ain Friendly International Volleyball Championship Kicks Off on Thursday 24th October
26.Oct.2019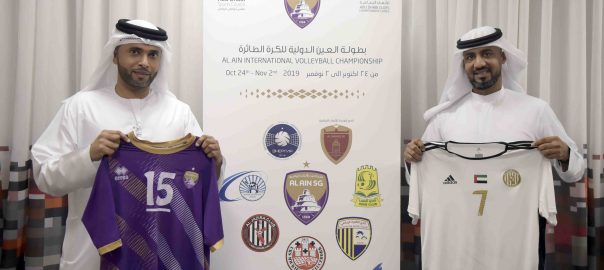 With the participation of 8 teams and organized by the Abu Dhabi Sports Council (ADSC), Al Ain International Volleyball Championship is scheduled to be launched on Thursday 24th October 2019.
The participating teams include Al Ain, Al Jazira, Al Wahda, Bani Yas, Al Dhafra, in addition to Oman's Al Seeb, Energia Gomel of Belarus, and Klotchburg of Poland.
The championship would be kicked off with a simple opening ceremony on Thursday, 24th October 2019, at 17:30. The first match of the championship will be between Al Ain and Al Jazira to be held at 18:15 and then a second match between Al Wahda and Energia Gomel of Belarus at 20:15.
On the other hand, the qualifying meeting of the Al Ain International Volleyball Championship was held on Wednesday, 23rd October, at the meeting room at Aloft Hotel in Al Ain City. The meeting was chaired by Ahmed Sultan, Championship Deputy Manager, Abdullah Zwayyed, Head of Fields Committee, Mubarak Al Nuaimi, Head of Technical Committee, and representatives of the participating teams.
Ahmed Sultan welcomed the representatives of the participating teams and wished them a pleasant stay in Al Ain City, adding that all facilities are made available and efforts are exerted to ensure the success of the championship and provide comfort for all.
During the meeting, the technical regulations of the championship were approved; in addition, regulations were reviewed with the participation of the teams' representatives. Also, colors the competing teams were identified, and training sessions program for all sides was distributed.