Al Ain Handball Team Got Off the Challenge Journey in League Competition by A Deservedly Victory Over Al Wasl
24.Sep.2017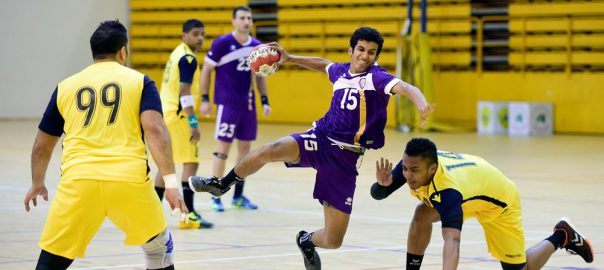 Al Ain Handball Men Team commenced their journey in the Handball League with a deservedly victory over the Al Wasl Club by 22-19 in the match held in Sheikh Rashed Bin Maktoum Court in Al Wasl Club in Dubai in the league week 1.
Al Ain Team dominated the first had and took the lead by 12-9, and was able to progress in the second half during which the team was able to protect their back nets from a number of serious attacks. Ahmad Salem and Mubarak Abdul Rahman were stars in significantly defending the nets of the team till the end of the match by a great result 22-19.
Tunisia's Coach, Mohammad Abu Ghazaleh, starting lineup included the following players: Ahmad Salem, Abdullah Abdul Rahman, Ibrahim Al Baloushi, Zayed Al Dousari, Bosna's Azak, Abdullah Omar, Ahmad Ba Swaid, Khaled Nasib, Omar Nasib, Khaled Al Wahshi, Mubarak Abdul Rahman, Salem Khalfan, Mohammad Khalfan and Issa Hilal.
Al Ain Handball Men Team is looking forward to resuming their victories in the current edition of the league when they host the champion of the past edition of the league, Al Sharjah, in the evening of Friday 29th September in the covered court in Khalifa Bin Zayed Stadium in Al Ain Club.