Al Ain SG Insists on their Right and Trusts the decisions of UAE Volleyball Association
09.Nov.2017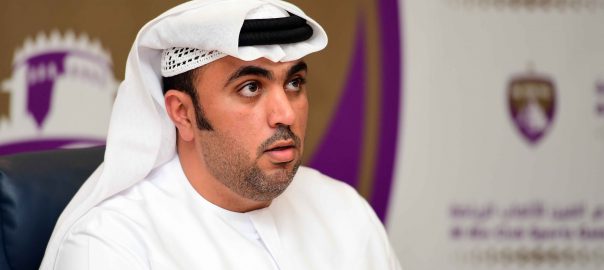 In a press conference held on Thursday 9th November 2017 dedicated to tackle the issues related to the decision taken recently by the UAE Volleyball Association on the Final Cup Re-Match against Bani Yas which ended previously by 3-1 in favor of Al Ain Volleyball Team, Al Ain Sports Games Company held a press conference at Khalifa Bin Zayed Stadium chaired by Abdullah Al Darmaki, Deputy Chairman of Al Ain Sports Games Company and in the presence of Al Ain professional player, Vladimir.
Abdullah Al Darmaki underlined that Al Ain SG still sticks to their right and would not squander it while pointing out that the decision means ruining all the players' efforts who have already earned the title meritoriously.
Al Darmaki renewed Al Ain SG requests addressed previously to the UAEVA which included providing the company with the grounds of the decision entailing the final cup re-match and a copy of the correspondences exchanged among Bani Yas Club, UAEVA and the International Volleyball Federation.
Commenting on a question regarding Al Ain SG further steps if their requests are dismissed by UAEVA, Al Darmaki emphasized: "We aim at finding a fair solution and we have full trust in the Chairman of UAEVA and the Board Members to set things on the right track; otherwise, we will refer the whole issue to the International Volleyball Federation and then to the Court of Arbitration for Sport, if necessary. However, let's hope that things would be sorted out flawlessly. "