Al Ain Topped UAE Clubs in Abu Dhabi Ju-Jitsu Grand Slam in Rio De Janeiro
14.Nov.2017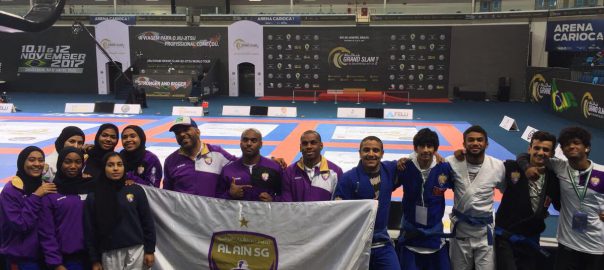 The Al Ain Club Ju-Jitsu delegation back home on Monday flying from Brazil following their unbeaten participation in the third round of the Abu Dhabi Grand Slam Tournament held in Rio de Janeiro during 11-12 November 2017.
Al Ain fighter picked up 7 colored medals during the participation in the third round of Ju-Jitsu tournament raising their balance to be 1400 points and topping the State's other clubs participating in this round.
Gold medals were won by Yahiya Al Nuaimi 46kg blue belt and Mahra Al Hanaa'i 52kg blue belt. The silver medals were won by Sari Al Ketbi 46 kg blue belt, Wadima Al Yafei' 48kg blue belt. While the bronze medals were achieved by Hessa Al Shamsi 57 kg blue belt, Maithaa Shraim 52 kg belt blue and Diab Al Nuaimi 55 kg Juniors.