Al Ain Volleyball Loses 1st Friendly Match Against Zamalek
29.Oct.2017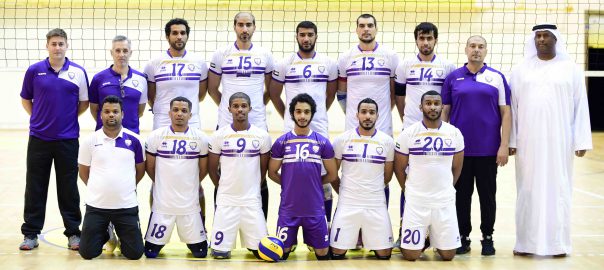 As part of their away camp in Egypt which will continue until 4th November, Al Ain Volleyball Men Team lost their first friendly matches to Al Zamalek by 3-1 when the two met on Sunday evening at the indoor court of the National Sports Center in Cairo.
The match was strong from both sides but Al Zamalek was able to win the first two rounds by 25-16 and 25-20. Al Ain in contrast was able to win the third round by 25-21 but they could not keep it up and lost the fourth round by 17-25 to finish the match by 3-1 in favor of the host team.
Abdullah Zowayyed Al Nuaimi, the Team Administrative Manager, emphasized: "Al Ain team exhibited a satisfactory level of performance despite losing the match. They benefited from playing against the strongest and biggest teams at the Arab and African levels and not to forget that the home team has highly skilled players."
He underlined the fact that: "Al Ain's Head Coach desires to grant the chance for as many players as he could to play in these friendly matches for further assessment of their performance to ensure that they are ready for the coming season."
"The team is not considering the matches' results as we are focusing on leveraging the team's level of performance in this camp," said he.
"The camp's atmosphere is supportive and fine and that the team conducts two training sessions, that is, in the morning and evening on a daily basis in an indoor court," added he.
Noteworthy, Al Ain team is holding their camp in the sports center for training the Egyptian national teams in Ma'adi District in Cairo. The center is a complex dedicated for all collective and individual sports and it has a hotel within its perimeters.