Al Ain's Jujitsu Team Sets Ready to Play in Abu Dhabi Grand Slam – Los Angeles
20.Sep.2018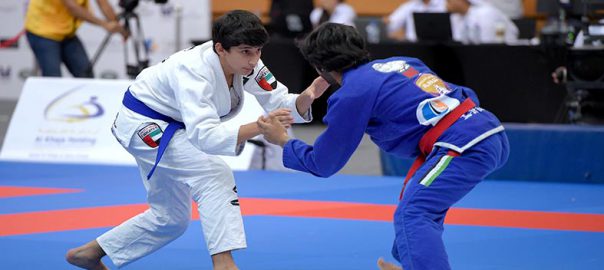 Al Ain Club Jujitsu Team is scheduled to travel to USA on Thursday 20th September 2018 to play the second round of Abu Dhabi Grand Slam – Los Angeles which will kick off on Saturday 22nd September.
Being their first away championship, Al Ain fighters are looking forward to clinch titles and add up points to the team's balance.
Noteworthy, Al Ain Club did not participate in the first round held in Tokyo. In addition to Al Ain team, there are other UAE clubs and international private academies.
The delegation is headed by Sheikha Ahmad Al Essa'i along with the players, namely: Taleb Al Kerbi, Rashed AL Kaabi, Obeid Al Nuaimi, Hamdan Al Bloushi, Mahra Al Hanai, Bashayer Al Matroushi, Dima Al Yafei, Hessa Al Shamesi, Khawla Al Haj and Maha Al Hana'i.