Al Deri Praises the Organization of the Mohammed bin Hamad Al Sharqi Tournamnet.. Fujairah, Kalba and Khor Fakkan Clubs Win Wrestling and Judo Medals
26.Apr.2022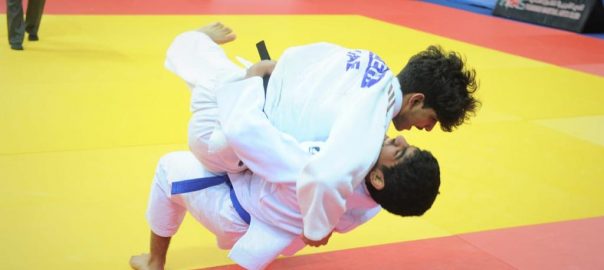 Mohammed bin Thaloub Al Dari, President of the UAE Wrestling and Judo Association, praised the organization, technical level and public success that H.H. Sheikh Mohammed bin Hamad Al Sharqi's first Ramadan Martial Arts Tournament.
The competition was organized by the Fujairah Martial Arts Club during the period from 15 to 17 April at the Zayed Sports Complex in Fujairah in cooperation with wrestling, judo and taekwondo and boxing associations, under the patronage and honor of His Highness, the Crown Prince of Fujairah, for the closing ceremony of the tournament.
The competitions witnessed the participation of about 400 players, including 180 players from the UAE Wrestling and Judo Association, in the competitions of the first edition. The matched included judo and wrestling for the junior and youth categories, taekwondo and boxing, which witnessed the participation of promising talents in various martial arts games.
Players from various age groups participated in the tournament. This contributed to increasing their experience and benefiting from the cessation of official activity during the holy month of Ramadan.
The President of the Wrestling and Judo Association praised the efforts of H.E. Brigadier General Ahmed Hamdan Al Zeyoudi, Executive Director of the Fujairah Martial Arts Club, Chairman of the Organizing Committee. He expressed his sincere wishes to continue and expand its base in various individual martial arts games for the ingenious and societal gains that were achieved.
He stated: "Thanks to the good preparations that were made available to them, a genuine reflection of the directives of His Highness the sponsor of the tournament that led to the success of its first edition."
The Technical Committee of the UAE Wrestling and Judo Association had approved the results of the individual wrestling and judo competitions. according to the official results the Fujairah Martial Arts Club won 7 gold medals, Kalba Association won 6 gold medals, Khor Fakkan won 4 gold medals, and Sharjah won one gold medal.
The winners of the Fujairah Club were Masoud Mohammad, Sultan Fahd, Khamis Hamdan and Abdullah Khamis (wrestling), Yazan Murshid, Saeed Al Naqbi, Sultan Al Houti (Judo). Ittihad Kalba winners were Rashid Nematov, Malik Moweed (wrestling), Ahmed Jassem Krisov Makridin, Isruel Norev and Alrov Verek (Judo). As for Khorfakkan Club winners, they were Hamad Abdullah, Muhammad Walid Al Naqbi, Hamad Al Hashemi and Abdul Rahim Al Saad (wrestling). Al Sharjah sole gold medal was won by Harib Jumaa Abdul Rahman.