Khwaiter: The New-fangled Achievement Gives us a Sense of Pride and Hope to Jiu-Jitsu in Al Ain and the UAE in the Future
10.Apr.2022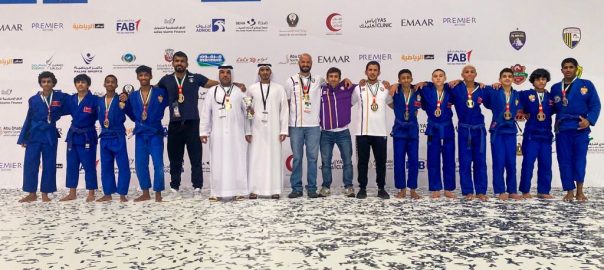 Khwaiter Al Dhaheri, Board of Directors member of Al Ain Sports Games Company, hailed the newfangled achievement of the Al Ain Jiu-Jitsu U-16 Team. The team was crowned with the most valued title, the President's Cup U-16. The competitions were held at the Arena in Abu Dhabi over the past two days, April 8 and 9.
Al Dhaheri commended the achievements of the Boss' junior team for snatching the precious title, stressing that it gives the Club a sense of pride and hope for the Jiu-Jitsu game in Al Ain Club and the UAE in the future.
He added: "These players are the hope and the future. They have achieved a great accomplishment by winning the U-16 President's Cup. We look at them as the right tributary of the Jiu-Jitsu game for Al Ain Club and the UAE national team in the future. We are placing great hopes to wining more regional and continental titles."
He also stressed that the Jiu-Jitsu game has become one of the games that have become more popular and attracted attention in UAE, and "we look forward to supporting this distinguished group of young people."
Al Dhaheri pointed out: "The players, the coaching teams and administrative staff, and everyone who contributed to this achievement deserve praise and appreciation for the good performance and high level of skills exhibited in the tournament ended by winning the title. It is a collective work from all the team members that led the team to be crowned by the title."
On this occasion, Al Dhaheri hailed the efforts exerted by the UAE Jiu-Jitsu Association for the excellent organization.
"It is not surprising, as they are always creative and perfect organizers of sidelines activities of the tournament. Moreover, they are always there to support and promote such local tournaments relying heavily on their technical expertise. Moreover, they are known for providing the appropriate atmosphere to develop the players' skills during those ongoing competitions organized annually," he said.
Khwaiter urged the players to strive and develop themselves and their skills in cooperation with the coaching teams, continue winning titles at all levels, and be up to expectations.
He said: "You are now the champions of a great title. You are the hope of our Club, and we always think big of you. You should be patient, have a high concentration level, and cooperate with the coaching teams to win more titles.
He put an accent on the importance of adopting the spirit of one team and diligence in training that leads to self-affirmation.
Al Dhaheri concluded his statement by saying: "The future is before you to raise the flag of your Club and the flag of the United Arab Emirates high in all regional, continental and international competitions."