During the Unique Event Organized by "SEHA".. Active Participation in the Event Organized by Al Ain Club Marking the World Health Day
05.Apr.2022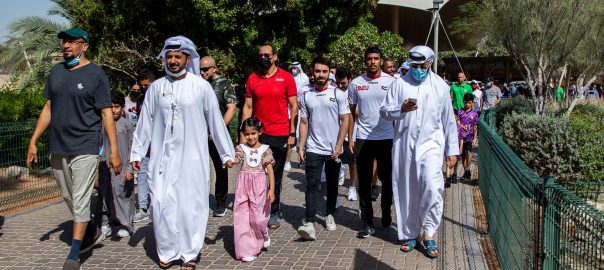 Al Ain Sports and Cultural Club, and its subsidiaries, participated in the World Health Day event organized by the Abu Dhabi Health Services Company, "SEHA" held at the Al Ain Zoo, this morning.
The event witnessed the participation of several public and private institutions and entities, most notably Abu Dhabi Police, Emirates Heritage Club, University of Emirates and Al Ain University.
The participation of Al Ain Club was effective and distinctive, as it included football skill displays performed by the Al Ain football school and academy players, under the supervision of the coaching teams. The spectators were allowed to participate in the show. In addition to the coaching teams supervised training sessions for all sports adopted by the club. The Al Ain Club shows received remarkable attention of the fans and great praise from the audience.
The event started with a march in front of the Al Ain Wildlife Park gate. The event program included distinct and varied shows, including questions and answers session under the supervision of the Public Relations Department of the Al Ain Police Directorate and the a great show performed by the police dogs "K9" supervised by the Security Inspection Department in Al Ain. It also included competitions and heritage questions, under the supervision of the UAE Heritage Club. The event agenda included various sports activities, questions and competitions presented by the UAE and Al Ain universities.