As part of the UAE Project to Have an Olympic Swimming Champion.. Al Ain Three Swimming Champs Join Away Swimming Camp in Hurghada
18.Dec.2019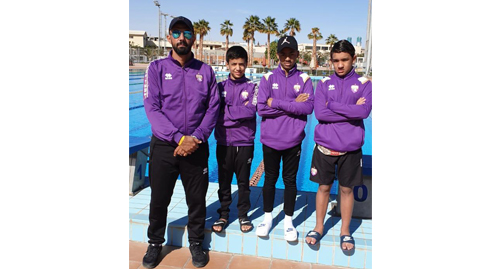 Al Ain Club Swimming champs flew to the Arab Republic of Egypt to join a one-month away training camp in the Hurghada city. The camp is scheduled to kick off on 13 December 2019 until 10 January 2020.
The camp is held as part of the framework of the strategic plan to have an Olympic champion set up by Al Ain Club to take part in global, Olympic, and local competitions this year.
Al Ain three players participating in this camp include Mohammad Rashid Al Kuwaiti, Saif Gharib Al Blooshi, and Saeed Jumaa Al Blooshi under the command of head coach Sharif Zakariyya Abd Rabu. The camp will last for 28 days in Hurghada, the Arab Republic of Egypt.
Khwaiter Al Dhaheri, the Board member of Al Ain Sports Games Company, said that the project proved to be successful since its inception and resulted in several gains at the level of the Club and the UAE national teams in various junior teams.
"We Look forward to boosting the three players' level of fitness and readiness and be able to achieve the desired goals and perform honorably in the scheduled competitions on behalf of the Al Ain Club and national teams and raise the UAE flag high," Khwaiter stated.
He signed off by wishing all the players all the best and be able to achieve the set goals.