Extended His Appreciation to Sheikh Hazza Bin Zayed.. Al Darmaki: Al Ain Volleyball Team Realized the Targeted Gains of the International Championship
05.Nov.2019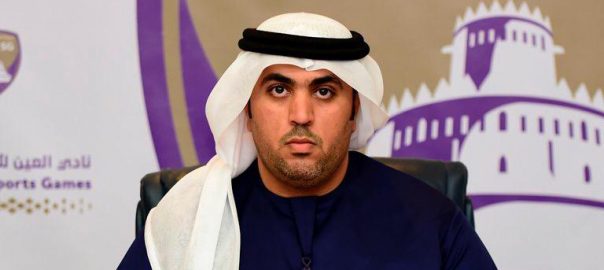 Abdullah Al Darmaki, Vice Chairman of Al Ain Sports Games Company and Supervisor of the Volleyball Sector, expressed his pride and honor in the highly appreciated confidence that H.H. Sheikh Hazza Bin Zayed Al Nahyan, Vice-Chairman of the Executive Council, First Vice President of Al Ain Sports and Cultural Club, First Vice President of the Honorary Council & Chairman of the Board of Directors of Al Ain Sports and Cultural Club, in the teams of the Al Ain Sports Games Company and all members of the Club.
Al Darmaki also thanked all the officials of the Abu Dhabi Sports Council for granting the Al Ain Club the opportunity to host the first edition of the International Volleyball Championship.
"We thank them for all their sincerest efforted they exerted. We believe that the championship was successful by all standards and it is important to go on with supporting such championships and pay them more attention, as well as expanding them in the coming years."
Al Darmaki stressed that all the teams participated in the championships achieved massive technical gains. "Such sport gatherings are an important for the teams preparations for their leagues and unique chance to play against various schools of volleyball. The Abu Dhabi teams had the chance to play against the Polish, Belarusian and Omani volleyball schools. Indeed, this is for sure serves the best interests of our teams prior the kickoff of the General Volleyball League scheduled to be held in mid-November."
Al Darmaki said that the championship was also a golden opportunity for the coaching teams of Al Ain Volleyball Team to identify all the points of strengths and weaknesses of the squad prior the kickoff of the league.
"This championship gave the head coach to assess the level of the team's players and know their level of skills and quality, in addition to the players he needs to have onboard."
Abdullah Al Darmaki underlined that all officials give Al Ain Volleyball Team receives significant attention and in return the players should push themselves to the limit in match they play. "I hope the players will be up to it and meet the expectations in each game they play wearing the team's badge and do the needful to serve the best interests of the club."
Noteworthy, Poland's Kluzbork Volleyball Team won the title of the first edition of Al Ain International Volleyball Championship after beating Al Ain by 3-0. Oman's Al Seeb finished third after beating Al Jazira 3-1.