AL AIN VOLLEYBALL TEAM ENDS AS RUNNERS UP
02.Nov.2019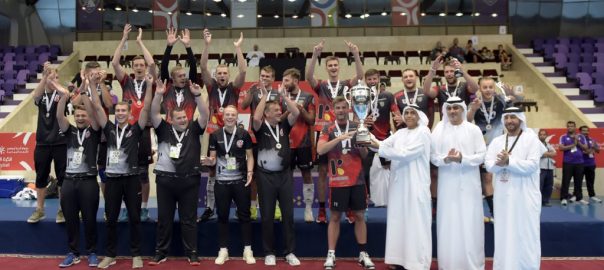 POLAND'S KLUZBORK IS THE CAMPS OF THE 1ST EDITION OF AL AIN INTERNATIONAL VOLLEYBALL TEAM
Poland's Kluzbork Volleyball Team was crowned with the title of the first edition of Al Ain Volleyball International Championship, beating Al Ain Volleyball Team by 3-0 in the final fervent match held at the purple indoor court at Khalifa Bin Zayed Stadium on Friday 1st November 2019.
Following the end of the match, H.E. Khamis Obaid Al Kaabi, Chairman of Al Ain Sports Games Company and Chairman of the Higher Organizing Committee, Abdullah Al Darmaki, Vice Chairman of Al Ain Sports Games Company and Director of the Championship, Dr. Ahmed Al Mutawa, Secretary-General of the UAE Volleyball Association, heads of delegations of participating teams, Saleh Al Shouaili and Abdul Aziz Al Junaibi, Board Members of Al Ain Sports Games Company, bestowed the individual awards to winners.
Al Seeb was awarded the third spot cup after beating Al Jazira 3-1.
Supported by the Abu Dhabi Sports Council, Al Ain International Volleyball Championship witnessed intense competition since its inception on 24th October. Eight teams participated in this championship, namely Al Ain, Al Jazira, Al Wahda, Bani Yas, Al Dhafra, in addition to Oman's Al Seeb, Energia Gomel of Belarus, and Kluzbork of Poland.