Hazza bin Zayed honours winners of Sheikh Zayed Book Award
25.Apr.2019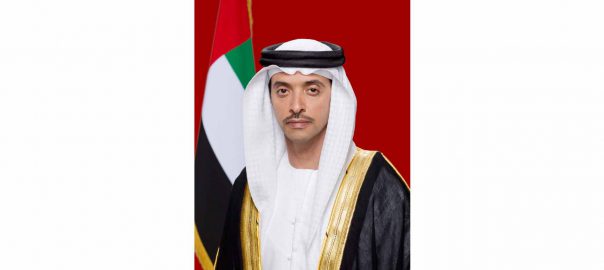 (WAM) — H.H. Sheikh Hazza bin Zayed Al Nahyan, Deputy Chairman of Abu Dhabi Executive Council, has honoured the winners of the 13th edition of the Sheikh Zayed Book Award, held under the patronage of His Highness Sheikh Mohamed bin Zayed Al Nahyan, Crown Prince of Abu Dhabi and Deputy Supreme Commander of the UAE Armed Forces.
Among those who were honoured by H.H. Sheikh Hazza were Moroccan writer and novelist Bensalem Himmich, who won the 'Literature' category award; Kuwaiti author Hussain Almutawaa, who won the 'Children's Literature' category; and Algerian scholar Dr. Abderrezak Belagrouz, winner of the 'Young Author' category. In the 'Literary and Art Criticism' category, scholar Dr. Charbel Dagher from Lebanon won the award for his book Contemporary Arabic Poetry. The 'Arab Culture in Other Languages' category was won by British academic and researcher Philip F. Kennedy, while the UAE's Arab Centre for Geographic Literature – Irtiyad al-Afaq won the 'Publishing and Technology' category award. Arabic scholars Professor Jaroslav Stetkevych and Professor Suzanne Stetkevych won the 'Cultural Personality of the Year' category.
The ceremony, which was held today at Louvre Abu Dhabi, saw the attendance of H.H. Sheikh Theyab bin Mohamed bin Zayed Al Nahyan, Chairman of the Department of Transport; Sheikh Sultan bin Tahnoon Al Nahyan, Chairman of the Sheikh Zayed Book Award Board of Trustees; Mohamed Khalifa Al Mubarak, Chairman of the Department of Culture and Tourism – Abu Dhabi (DCT Abu Dhabi) and Member of Board of Trustees of the Sheikh Zayed Book Award; Saif Saeed Ghobash, Undersecretary of DCT Abu Dhabi; Dr. Ali Bin Tamim, Secretary General of the Sheikh Zayed Book Award, as well as other ministers, intellectuals and important cultural figures.
"From Louvre Abu Dhabi, we honour a group of leading figures from the worlds of both literature and culture," said Al Mubarak, Chairman of DCT Abu Dhabi. "We are honoured to congratulate this creative group of thinkers and researchers who have been awarded this year's awards.
"We always strive to honour important literary, cultural and intellectual symbols in order to build a knowledge-based economy. Our founding father, the late Sheikh Zayed bin Sultan Al Nahyan, considered it an essential pillar in order to guarantee the nation a bright future. Ever since its first foundations were established, these awards have flourished," he said.
Dr. Ali bin Tamim, Secretary General of the Sheikh Zayed Book Award, said: "These awards reflect values of tolerance. They celebrate human heritage and maximise convergence between individuals and communities and raises questions that seek to create unity in pluralism.
"The UAE does not simply mention tolerance as a slogan but instead transforms it into a cultural product and a social practice, capable of coping with the transformations we experience in our lives."
The Secretary General noted that the respective literature of both Jaroslav and Suzanne Stetkevych emanates from a spirit of academic research characterised by tolerance. He said Bensalem Himmich's writing encompasses a deep cultural dialogue with the past, present and self, and the writings of Philip F. Kennedy pay homage to Arab culture and open dialogue. He said Dr. Charbel Dagher uses poetic text to highlight his presence without fanaticism of form or type, while the stories of Hussain Almutawaa creates an imaginary world for children inspired the construction movement and Dr. Abderrezak Belagrouz's writing focuses on the importance of values and their positive role.
"The Sheikh Zayed Book Award continues its successful trajectory and confirms its well-deserved position as the most important of its kind in the Arab world," said Abdulla Majid Al Ali, Member of Board of Trustees and Acting Executive Director of the Dar Al Kutub Sector, DCT Abu Dhabi .
"Today, a distinguished range of researchers and innovators honour us with their presence and we celebrate their values and what they represent. We express our gratitude to the winners of this prestigious honour and I would like to thank the awards committee who contributed to the success of this year's edition."
In her speech, Prof. Suzanne Stetkevych expressed her appreciation for the Sheikh Zayed Award and its sponsors, which are an extension of the visions of the late Sheikh Zayed towards human progress, tolerance and co-existence, and for the support and encouragement of Arab creativity and its accompanying criticism, translation and publication.
Following are the awardees: -Sheikh Zayed Book Award for Literature Bensalem Himmich is an intellectual and author, and the former Minister of Culture for Morocco. He attained his PhD in Philosophy from the University of Paris. Writing in both Arabic and French, some of his novels have been translated into several other languages. The Writers' Union of Egypt chose Himmich's novel Majnoun Al Hukm as one of the 100 best novels of the twentieth century, and another novel, Mu'athibati, was shortlisted for the Arab Booker International Award. Himmich has spoken at several Arab, European and American forums, and received the grand award of the French Academy of Toulouse in 2011.
-Sheikh Zayed Book Award for Children's Literature A Kuwaiti writer and photographer born in 1989, Hussain Almutawaa attained a bachelor's degree in Literature and Criticism from the College of Arabic Language at the University of Kuwait, minoring in Philosophy. He started his literary career as a poet in 2009, and has participated in many poetry events and festivals. In 2015, he began writing short stories and won first place in the 'University Poet and Story Teller' category at the University of Kuwait. Almutawaa then moved on to novels, publishing his first, Turab, at the end of 2017, and his children's novel, I Dream of Becoming A Cement Mixer, in 2018.
-Sheikh Zayed Book Award for Young Author An Algerian scholar holding a PhD in the Science and Philosophy of Values and Knowledge, Dr. Abderrezak Belagrouz is a lecturer in the Department of Philosophy at Staif-2 University in Algeria. He is also an expert judge and member of the scientific committee of the Algerian Society of Philosophical Studies. He has authored several books, including Transformations of Modern Philosophical Thinking: Questions on Concept, Meaning and Connection, published by Al Maaref Forum, Beirut in 2018 and For Knowledge: Honest Discussion with Self and Books, published by Al Watan Publications, Algeria in 2017.
-Sheikh Zayed Book Award for Literary and Art Criticism Dr. Charbel Dagher is a Lebanese scholar and a Professor at the University of Balamand holding two PhDs, in Modern Arabic Literature and Art History and Philosophy. He has written over sixty books in both Arabic and French, including Arabic and Urbanism: the Relationship between Revolution, Culturalism and Modernity, published by Dar Al Nahar and University of Balamand in 2009, and Modern Arabic Poetry: The Prose Poem, published by Al Maaref Forum in 2018.
-Sheikh Zayed Book Award for Arabic Culture in Other Languages Philip F. Kennedy is an American academic and researcher specialising in Middle Eastern and Islamic studies. He holds a PhD in Classic Arabic Poetry and a Masters in Middle East Studies. He is currently working on a book called Islamic Projections, a study of narrative knowledge focusing on the Medieval Period.
-Sheikh Zayed Book Award for Publishing and Technology The Arab Centre for Geographic Literature – Irtiyad Al-Afaq is an Emirati cultural initiative established by Emirati poet and author Mohammad bin Ahmad Al Suwaidi under the umbrella of one of his other projects, the Al Suwaidi Cultural House, which has published a large number of accounts of old and modern Arab voyages in over sixty books. The Arab Centre for Geographic Literature annually bestows the Ibn Battuta Geographic Literature Award for best publications in travel narratives and criticism. Among the Centre's achievements is the compiling of a comprehensive bibliography containing every achievement in the verification, criticism and creation of written voyages.
-Sheikh Zayed Book Award for Cultural Personality of the Year The Stetkevyches Professor Jaroslav Stetkevych is Professor Emeritus of Arabic Literature at the Department of Near Eastern Languages and Civilisations at the University of Chicago and a Research Associate in the Department of Arabic and Islamic Studies at Georgetown University, Washington D.C. He received his PhD in Arabic Literature from Harvard University in 1962. His seminal works include The Zephyrs of Najd: The Poetics of Nostalgia in The Classical Arabic Nasib, which details the development of the literary Arabic language, as well as focuses on poetry in Arabic music.
-Professor Suzanne Stetkevych is the Chair of the Department of Arabic & Islamic Studies at Georgetown University in Washington D.C. She is the Executive Editor of Brill Studies in Middle East Literatures, and sits on the board of the Journal of Arabic Literature. She obtained a PhD from the University of Chicago in 1981, and is known for her important works on Arabic classical poetry from the pre-Islamic era to the neo-classical periods, which have been published in both English and Arabic. She has written several books, including Abu Tammam and the Poetics of the Abbasid Age.