Hazza Bin Zayed Inaugurates "Tam" system of Abu Dhabi Unified Government Services
05.Feb.2018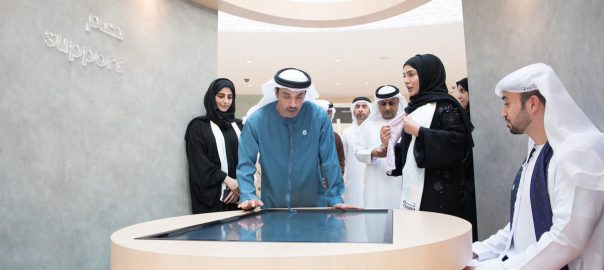 H.H. Sheikh Hazza bin Zayed Al Nahyan, Deputy Chairman of the Abu Dhabi Executive Council, inaugurated the "Tam" system of Abu Dhabi Unified Government Services that is considered to be the first of its kind in the region, aiming to achieve a radical and paradigm transformation in the provision of government services in Abu Dhabi emirate.
"Today, we move towards achieving the vision of the future government services in Abu Dhabi and we continue our journey with determination to lay the foundations of new standards of excellence to benefit the community of Abu Dhabi," Sheikh Hazza said.
Promoting Economic Environment
The "Tam" platform is in line with the vision of Abu Dhabi government's aim of facilitating the lives of the residents and providing them with all the means of success as well as promoting the economic environment in the emirate.
The platform will also allow all its customers, whether UAE citizens, residents, visitors or investors, to obtain a comprehensive range of government services through one combined portal at any time and place, without the need to visit government authorities or their websites, through a smart application, the e-portal or "Tam" branches to enrich the experience of customers and provide an easy and convenient experience.
Customers will be able to take unique browsing experience either through digital platforms or by visiting Tam's branches which are comprehensive terminals to provide customers with smooth and convenient experience for the client.
Advanced Techniques
Inspired by the theme of the falcon nest, these branches will offer customers an inspiring and innovative environment that employs advanced technology to enable visitors to communicate, work, study and complete a full range of government services through dedicated platforms within the facility itself and receive full support offered by the professionals.
The Abu Dhabi Government created a prototype of the platform in Yas Mall, with the aim of introducing the system to customers and receiving suggestions and comments about the ambitious project.
Sheikh Hazza launched the system today and inspected the prototype while accompanied by Jassem Mohammed Bouatabeh Al Zaabi, Chairman of the Abu Dhabi Executive Office, who briefed him about the project and its role in promoting customer experience of local government services.