JAFRA CONTRACTING FACES AL JAZIRA IN FINAL SUPER HAZZA BIN ZAYED STADIUM RAMADAN TOURNAMENT
05.Jun.2018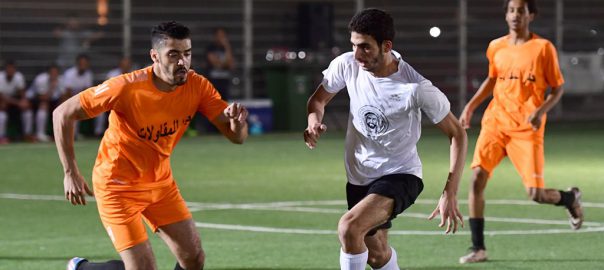 On Friday 1st June will witness the end of the Super Hazza Bin Zayed Stadium Ramadan Tournament by holding the final match between the champion of the Fans Group Al Jazira team and Jafra Contracting team who topped the Companies Group.
The tournament was launched on the third of Ramadan with the participation of 16 teams with prizes exceeding 100,000 dirhams. The teams were divided into two groups: Companies Group and Fans Group. The participating teams competed over two weeks within four subgroups in each group and more than 160 players from locals and other nationalities represented by the community teams and exhibited an excellent performance throughout all matches which did not witness any red cards.
The winner team of the Super Cup will receive a prize of 20,000 thousand dirhams in addition to 15,000 dirhams for winning the title of the group in which they were compete in. There are also prizes for the Best Player, Top Scorer and the runners up in each group.
As for the journey of both teams during the tournament, Al Jazira topped their group with two draws with Al Khulaif by 1-1 and Al Hazem by 0-0 and won the "Boss" by 3-1 and in the semifinal match they surprisingly won the Moroccan Community Team from the penalty point by 2-1 as the match ended by a goal for each in the original time. In the final match Al Jazira faced with the runner up of their group, the "Boss" and repeated the victory in the final match by beating them by 2-1 to be the crowned as the champion of their group.
As for the Jafra Contracting Team, they were placed second as they won Al Ain Team by 2-1 and lost their match against Tawam Hospital by 3-0 and tied with Al Ain Police by 1-1 in the semi-final match. Jafra Team was able to won Tadweer Team who was nominated to be the winner of the title by 3-0. In the final match of the Companies Group, Jafra surprisingly won Tawam Hospital by 2-1.