Khuwaiter: Pleased with Ainawi Female Swimmers and "Champ" Project Reaps its Fruits
28.Jan.2018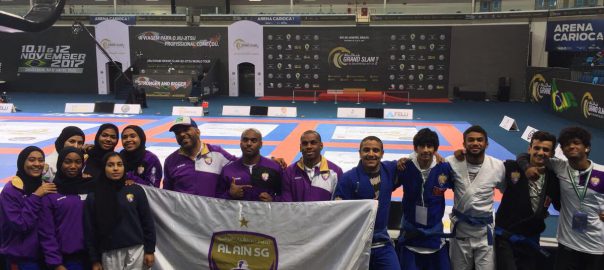 Khuwaiter Saeed Al Dhaheri, Member of the Board of Directors of Al Ain Sports Games Club and Supervisor of Individual Games, hailed the efforts exerted by the Board of Directors of Al Ain Club in promoting the level of individual games at the club.
He stated: "These efforts are realized on actual ground through the teams' previous participations and the last one was taking part in the UAE Swimming Cup held during 26 and 27 January 2018 at Hamdan bin Mohammed Olympic Stadium in Dubai where the Ainawi female team achieved new records." He added: "Al Ain Club female swimmers participated for the third time in this competition where Mahra Al Bloushi snatched the bronze medal to be the first female swimmer in the club to win a colored medal. Also, Yasmin Saif who was placed fourth in another competition."
He pointed out: "In UAE Swimming Cup, Al Ain female swimmers surprised the experts and professionals by their stunning performance in the pool by showing their fighting spirit while competing with their peers from other clubs who enjoy rich experience in such competitions."
Khuwaiter commended the great role played by the swimmers' parents and their great support for the daughters. He urged them to exert more efforts in supporting their daughters to attend the training sessions and stand by them during tournaments which witnessed a fierce competition but the champs were up to expectations and were able to defend the logo of Al Ain Club and be crowned at the podiums.
"At the level of male competitions, Al Ain Club launched the "Champ" Project which is massively supported by the Board of Directors of Al Ain Club and significantly contributes to the breaking of records," said he.
Khuwaiter concluded by saying: "Records were broken in the recent UAE Swimming Cup by the Ainawi swimmers Ahmad Al Hashemi and Hamdan Al Bloushi who have broken 3 records in chest competitions."