Al Ain Celebrates Prompting Jiu-Jitsu Players with Colored Belts
17.Dec.2020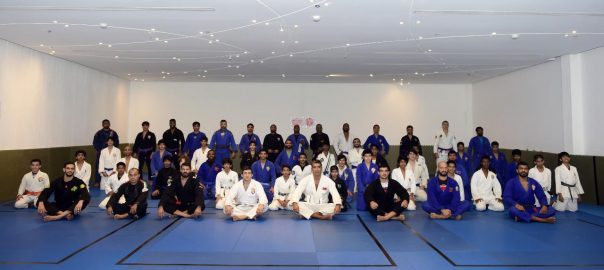 Marking their local and international achievements at the individual and group levels, a promotion ceremony of Al Ain Jiu-Jitsu players was held at the indoor court attached to Al Ain Club in Al Qattara. The event was held in the presence of the Brazilian team head coach, Eduardo da Silva, and game administrative officer, Saeed Al Juniabi, and a number of the team coaches.
During the ceremony, 5 players were promoted from the purple to the brown belt and 3 players from the blue to the purple belt. Additionally, several players from junior teams were promoted to higher after they had passed the main tests and pre-requirements for promotion.
The Brazilian head team, Eduardo da Silva, congratulated the players who were promoted saying "I wish that this promotion will motivate you all to add more to your achievements in your future career and during coming tournaments you will compete in this season and the coming seasons."
Saeed Hilal Al Juniabi, the team's administrative officer, praised the efforts made by the management of Al Ain Club Sports Games for jiu-jitsu game and their interest and support for the players. "The Club has spared no efforts to provide the appropriate atmosphere with sights set to achieve more successes to reach the coronation podiums as we usually do in each season."
Al Juniabi thanked the players who were promoted and calling for more efforts and more achievements at the local, regional and international levels while playing for the Club or the national team. He urged them to work hard to get promoted to higher belts.
The player and captain of Al Ain Jiu-Jitsu Team Zayed Obaid Al Kaabi, who won the black belt, congratulated his fellow players on their promotion, noting that each belt is a start and a new challenge for each of them to achieve more victories at the personal, club and national level during their career.