Al Ain Wins 12 Colored Medals in the Abu Dhabi Jiu-Jitsu Federation Tournament
19.Dec.2020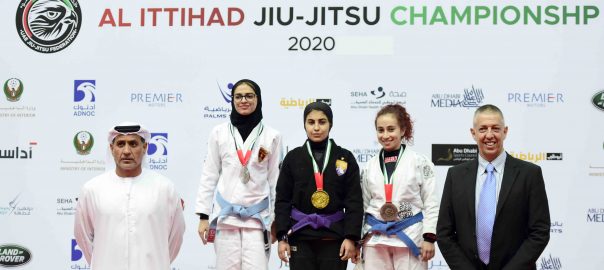 Al Ain Jiu-Jitsu Club players won 12 colored medals in the Jujitsu Federation Professional Championship, which ended this evening at the Jujitsu Arena in Zayed Sports City in Abu Dhabi, with the participation of 141 players.
Al-Ain Jiu-Jitsu Team won 4 gold, 4 silver and 4 bronze medals. The rounds strong and tough in various categories and weights under 56, 62, 69, 77 and 85 kg. It was a reliable test for the players' capabilities and introducing them to the atmosphere of the official tournaments.
Wadima Al Yafei won the gold medal of 45kg and her colleague Ohoud Al Kaabi won the gold medal of 48kg. Meanwhile, Mohammed Talal Al Kaabi won the gold medal of 46 weight and Ammar Hamad Al Dhaheri won the gold of 50 kg.
Maryam Khalifa Al Rashedi won silver medal of 57 kg, and her colleague Mohammed Saeed Al Kaabi won the silver medal in 55 kg, Hamdan Al Asri Al Mansouri won silver medal of 60 weight and Hadi Abbas got the silver medal of 66 kg.
The bronze medals were granted to Ahmad Ali Al Meqbali in 60 kg category, Mohammed Al Darmaki, in 73 kg, Sultan Mohammed Al Kaabi, 94, and Azari Muhammad Al Shamsi, 63.
H.E. Khwaiter Al Dhaheri, Board Member of Al Ain Club Sports Games and Supervisor of Individual Games, expressed his appreciation to the UAE Jiu-Jitsu Federation for its constant attention they pay for the clubs and players and for providing an atmosphere that guarantees their personal and professional growth and development.
Al Dhaheri congratulated the players who won the colored medals and wished the other fighters to exert more efforts to win medals and catch up with their colleagues to the podiums. He said: "The club participates strongly in this tournament, especially as it is an integrated physical and psychological preparation for the players for the upcoming championships and competitions. Al Ain club aims in the new season to boost its supremacy, as is the case during past seasons.
Wadima Al Yafei, Al Ain Jiu-Jitsu player and gold medal winner in weight of 45 kg, expressed her incomparable happiness to return to the tournament atmosphere through its wide door, stressing that it represents the return of the spirit for the jiu-jitsu player.
H.E. Abdul Moneim Al Sayed Mohammed Al Hashimi, Chairman of the UAE and Asian Federation, First Vice President of the International Jiu-Jitsu Federation, Mr. Erez Allroy, Chairman of the Board of Directors of the Israeli Jiu-Jitsu Federation, H.E. Mohammed Salem Al Dhaheri, Vice President of the UAE Jiu-Jitsu Federation, H.E. Samira Al Rumaithi, Member of the Board of Directors of the UAE Jiu-Jitsu Federation, and Fahd Al Shamsi, Secretary General of the UAE Jiu-Jitsu Federation and Elisha Bublinger, CEO of the Israel Jiu-Jitsu Federation, crowned champions after the end of the tournament at the Jiu-Jitsu Arena at Zayed Sports City in Abu Dhabi