Italy's Matteo Paris Al Ain Volleyball Signs to Al Ain Volleyball Team
09.Jan.2021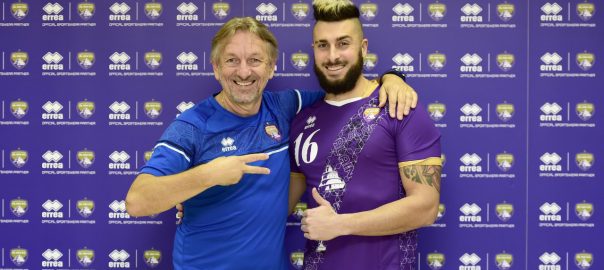 Al Ain Sports Games Company announced that the company signed a contract with the Italian Matteo Paris (37 years old), playing as the first team's setter until the end of the current season.
His Excellency Abdullah Al Darmaki, Vice Chairman of Al Ain Sports Games Company, welcomed the newcomer, the Italian team Matteo Paris, wishing that he would add value to the team this season.
Al Darmaki confirmed that a meeting was held with the Club's Volleyball Technical Committee. The committee members agreed that there are requirements for the team, including to contract with the Italian setter Matteo. They also promised to fulfill the team's requirements shortly to compete for the remaining tournaments of this season.
For his part, Matteo Paris expressed his pleasure with the warm welcome and stated: "I am thrilled to join the family of volleyball at Al Ain Club and tanks for the brilliant welcome that I received upon my arrival in Al Ain. Indeed, this is my first visit to the Gulf region and the UAE in particular, and I wish to make the desired added value during the remaining competitions of this season."
On his first experience in the UAE, Paris indicated that he knows very well that Al Ain has a great history of winning titles at the local level. "I know very well that the team is going through a transitional phase during the current season, trying to do everything he can to be back to the coronation podiums with the help of his fellow players and the coaching teams."
Matteo has successfully passed all the medical examinations that he underwent to be eligible to join the team's lineup. He is scheduled to play with the team in the next rounds of the General League Championship.
Noteworthy, the Italian Matteo Paris, 37, is considered one of the distinguished setters at the level of Europe. He played for Italian and Greek clubs, won many titles in Europe, and won many titles at the personal level and the teams he played for.