Al Ain Jujitsu Team Occupy First Place in Youth Category of the President's Cup
30.Sep.2018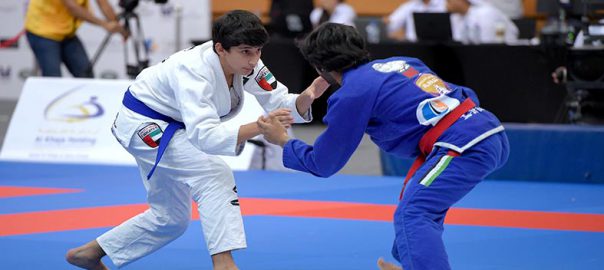 Al Ain Jujitsu champs clinched the 1st place in the youth category by the end of first round competitions of the President's Cup held at Al Jazira Club in Abu Dhabi. Meanwhile, Al Ain men and juniors' teams were placed third.
Indeed, 100 players of 16 clubs from all emirates took part in the competitions of the first round which is classified into three categories: juniors, youth and men.
The starting lineup of Al Ain youth team who clinched the first place in the first round included the following players: Khalifa Murad Al Bloushi, Diab Hilal Al Nuaimi, Hazza Salem AL Shamsi, Abdullah Al Sa'edi, Khaled Salem Al Shamsi and Khaled Ahmad Al Haj.
Noteworthy, Al Ain Jujitsu Team has been crowned the champs of the recent two editions of the President's Cup and look forward to maintaining their superiority in the second round of the competitions scheduled to be held in Al Dhabi in December 2018.