Al Ain Wins Shabab Al Ahli Dubai by 3-0 in the Playoff First Leg Match
16.Mar.2018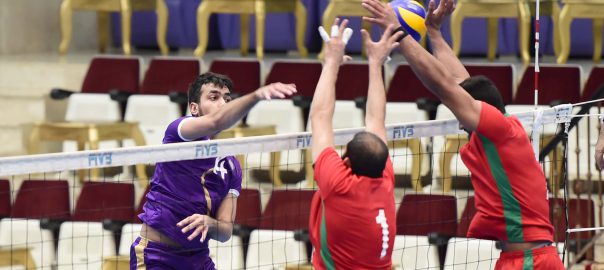 Al Ain Men's Volleyball Team has won the home team, Shabab Al Ahli Dubai, by three clean rounds in the playoff first leg match of the Premier Volleyball League held in the indoor court of the former Al Shabab Club in Dubai.
The first round witnessed a sturdy and strong competition by the two teams, but Al Ain squad was able to win it by 36-34. In the second round, Al Ain was decisive and won it by 25-19 in their favor and the stars of the team ensued their stunning performance and won the third round by 25-20 and won the match by three clean rounds.
Al Ain squad is seeking to pursue the victories track and ensure arriving to the final match of the Premier Volleyball League when they host Shabab Al Ahli Dubai in the in the playoff second leg match on Tuesday 20 March 2018 at the court of Khalifa Bin Zayed Stadium in Al Ain Club.