Ladies Day at HBZ Stadium event launches Saturday, December 26th
31.Dec.2015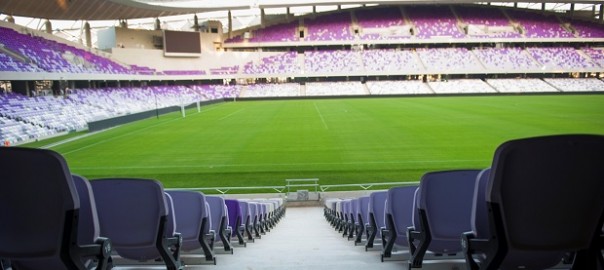 The management of Hazza bin Zayed Stadium, which was named the Stadium of the Year 2014 by StadiumDB.com, announces the launch of "Ladies Day at HBZ Stadium" on Saturday, Dec. 26th, 2015, which is a ladies-only event aiming at creating a safe sports environment for ladies to enjoy fun sports activities. The Ladies Day includes many activities which raise awareness about women's role in sustainable development of the sports sector, and encourage them to lead a healthy lifestyle through participating in different sports activities. Tickets are sold for 35 AED at Al Ain Sports Club's official store at Hazza bin Zayed Stadium.
"Ladies Day at HBZ Stadium" event targets ladies of different age groups from inside and outside Al Ain city, including businesswomen, housewives, college students, and employees. Attendees will enjoy a carnival which reflects Emirati women's recognition of their national role in promoting sports in the UAE.
The management of HBZ Stadium stated that this event reflects its faith in the importance of facilitating everything necessary for women to engage in sports, because of their core role in preparing future generations, boys and girls, and raising them to love sports; whether by attending, playing or cheering at stadiums, which contributes to strengthening the UAE's position in international sports.
The management also explained that this event aims at encouraging stadium attendance and turning it into the new Emirati generation's cultural habit, given that cheering at football stadiums motivates creativity and devotion, which leads to raising our country's flag in championships. The mother's role stands out when they escort children to the stadium, and teach them from an early age to love the feeling of belonging to their country, in addition to competing with determination for its sake.
The list of activities at "Ladies Day at HBZ Stadium" includes a number of group exercises, which emphasize the importance of team spirit, in addition to meditation exercises, Zumba classes conducted by fitness coaches from "Gold's Gym", one of the country's most important fitness centers. Also, a range of medical tests for the prevention of diabetes and obesity will be provided, and skincare advice from Al Dawaa Medical Center's specialists will be given, in addition to many other activities.
Hazza bin Zayed Stadium is considered one of the top sports facilities in the region and the world when it comes to taking women's needs and aspirations into account. The stadium offers entrance gates, seating areas, private cabins, that are designed to provide the highest level of luxury and privacy for families, women, and children.
"Ladies Day at HBZ Stadium" isn't the first event dedicated for family, women, and children. The stadium's management launched "Train in Al Ain" program, which is a weekly social event, held on a weekly basis at the stadium in collaboration with "Active Life – Daman", that encourages women to lead a healthy lifestyle through participating in a number of sports activities and medical check-ups.
Moreover, the stadium's management offers the "Aynaoui card"; the annual membership designed to grant women a bundle of privileges and benefits, exclusive discounts, and exceptional offers from the most famous and largest brands of travel, tourism, hotels, restaurants, shopping centers, health clubs, and beauty centers. Add to that a variety of exclusive products available only at Al Ain FC Official Store, which include sports accessories and women's sportswear, in addition to kids' sportswear, cheerleading equipment and souvenirs.
The stadium's management continuously organizes entertainment, social and national events, to bestow joy and pleasure among all family members during football matches at the stadium, through carnivals, exotic masquerade shows performed by acrobatic teams, and a number of kids' activities, ranging from face coloring to traditional and folk music concerts.